Lost and Found is a beautiful painting created by the artist Greg Olsen. You've likely seen it before. But do you know the story behind the painting? The painting shows a young man in dark clothing sitting on a bench in a park. Sitting next to the young man, with a warm and gentle smile, is the Savior Jesus Christ.
The Story Behind Lost and Found
On his website, Greg Olsen says that the young man who modeled for this painting was a family friend named Dan. A message on suicide prevention (SEE BELOW), revealed that Dan died by suicide.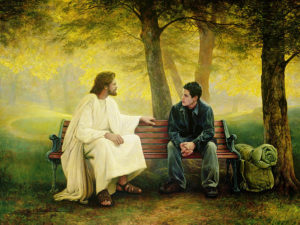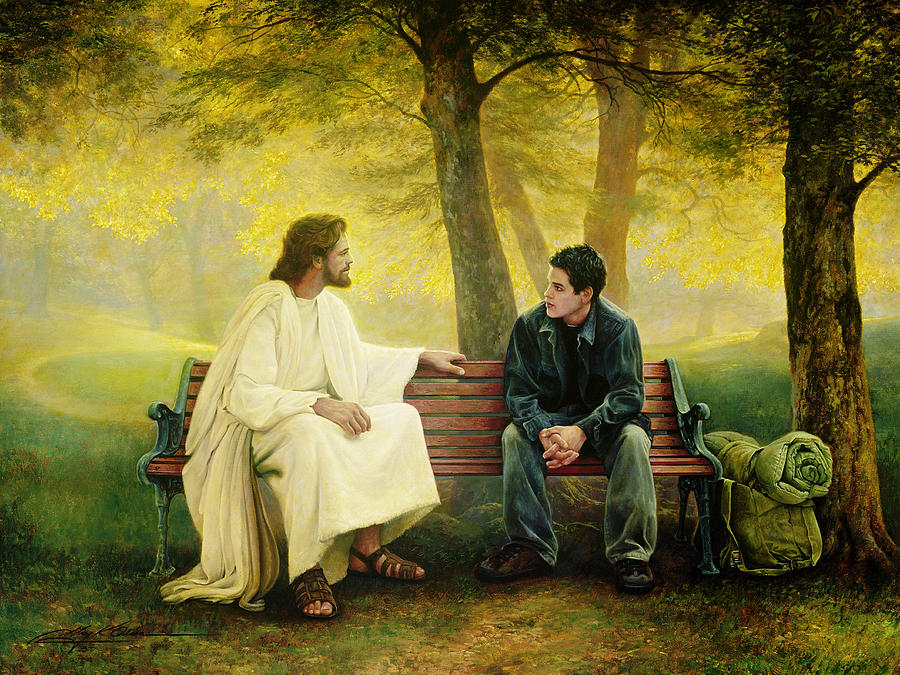 If you are having suicidal thoughts or feelings, I want you to know two things: 1) You are wanted and needed here, on earth. And 2) You are not alone. You are never alone. Christ understands your pain and is always with you.
About the painting, Greg Olsen wrote this: "Wherever we are in our journey, the Lord is near. He will not force himself upon us, but simply waits for us to ask for his help. Unlike most of us, who have difficulty seeing beyond the outward view of that person on the bench, Christ sees the soul knows the heart and remains the ultimate Savior and friend."
Please watch the video below then scroll down to read more about suicide prevention. CLICK HERE to read more about the symbolism within the painting.
Suicide Prevention
The most common sources of pain for someone having suicidal thoughts are feeling disconnected from other people, feeling like they're a burden to others or that people would be better off without them. Coupled with the hopeless thoughts that things aren't going to change, suicidal thoughts become risky.
For some, like Seth Adam Smith, the right words spoken by another can change a life. Seth's depression caused him to attempt suicide. He was miraculously saved, and when he awoke, his older brother's words changed everything. "You know, Seth," his older brother said, "I almost lost my little brother. … I don't think I'm going to go anywhere for a while."
While it may seem too simple, sometimes words of comfort, support, and love can be life-changing for someone who doesn't feel needed.
Sometimes those suffering with depression and suicidal thoughts don't even need words. They need to feel loved and valued.
Elder M. Russell Ballard counsels us not to judge, but to reach out. "It doesn't mean you're going to be able to heal people, … but we can have an impact in guiding people to some of the resources out there." He reminds us that we can be one of those resources. "There is nothing more powerful than the arm of love that can be put around those who are struggling."
Comments
comments