At the beginning of his ministry, Jesus read from the scriptures, saying: "The Spirit of the Lord is upon me, because he hath anointed me to preach the gospel to the poor; he hath sent me to heal the brokenhearted…to set at liberty them that are bruised." (Luke 4:22)
In the book of Isaiah, a similar scripture finishes with: "…to appoint unto them that mourn in Zion, to give unto them beauty for ashes, the oil of joy for mourning, the garment of praise for the spirit of heaviness; that they might be called trees of righteousness." (Isaiah 61:3)
I believe in these scriptures with all of my heart.
In 2006, my chronic depression, which I had struggled with for years, had finally broken me. I had tried everything to fix my problems, but whatever I touched seemed to wither and rot. Darkness overwhelmed me like a tidal wave, destroying all of my hopes and dreams, and seemingly suffocating me in the process. Unable to see my way forward, I decided to end my life.
Miraculously, however, my family rescued me from my suicide attempt. But I still wasn't grateful to be alive. Instead, I looked over my life and saw only the devastation caused by my depression. It seemed that all of my hopes for life had turned to cold, colorless ash.
In the hospital, I had a hard time seeing how things could get better—how I could be whole again. Not only was I still struggling with what felt like impenetrable depression, but I had also attempted to take my life. My whole neighborhood had seen the ambulance, my family had to pay for an expensive visit to the ER, and everyone I knew would look at me differently.
What I saw in myself was a broken mess; a life of complete failure.
But the love of my family was stronger than I could've imagined; it was like a light in my darkness, which pointed me toward a greater light—God.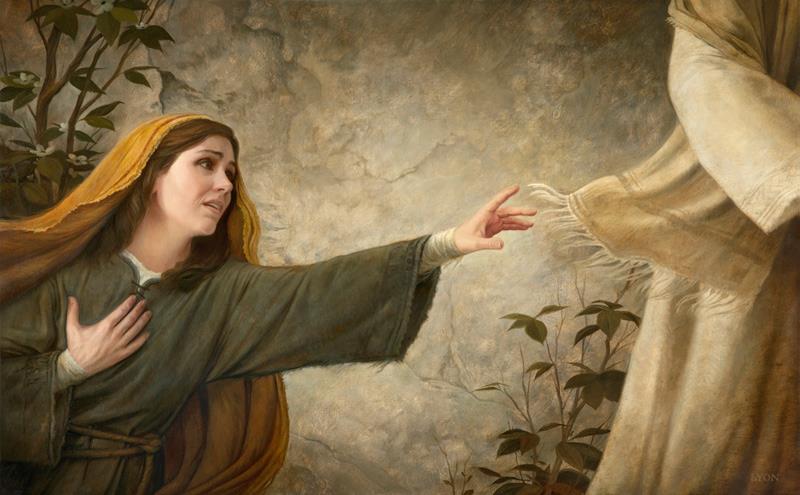 In absolute humility, I took the broken pieces of my life to Him, and asked for His help. In many ways, I felt akin to the woman with "an issue of blood" mentioned in the New Testament. She had visited countless doctors and spent "all her living," but just couldn't be healed (Luke 8:43). In faith and desperation, she followed the Savior through a crowd, "touched the border of his garment," and was made whole through her faith. (Luke 8:48)
I want to pause here and say something about faith. Faith asks us to do everything we can do, and then ask God to do what we cannot. Before the Savior raised Lazarus from the dead, He waited for everyone to do what they could do. Martha came to Jesus and told Him that Lazarus had died (John 11:21), He had the family lead Him to the grave (John 11:34), He asked the family to remove the stone which covered the grave (John 11:29), and then He raised Lazarus from the dead (John 11:43). Even after the miracle, Jesus asked those around help Lazarus by removing his bandages (John 11:44).
Certainly, Jesus had the power to do all of those things himself. He knew that Lazarus was dead, He knew where to go, He could've easily removed the gravestone, and He could've removed the bandages Himself as well—but He asked others to do what they could, and then He did what they could not.
In a similar way, we are asked to exercise our own faith by doing things that are within our power. For example, if we are suffering, we must seek help from friends and family, visit doctors or counselors, and prayerfully utilize all of our available options. As we do these things in faith, we are asking God to perform a miracle.
I have seen, through experiences too numerous and too sacred to share, God take the ashes of my life and miraculously turn them into something beautiful. I have marveled at His power to touch something broken, and not only make it whole, but better than it ever was before.
In a way that is almost unbelievable to me, I have seen God take my experiences with depression and turn them into something beautiful.
Truth be told, I never intended my blog to become what it is today. It started out as a way for me to learn about blogging and promote the videos I had been making. I've always wanted to write fiction, not personal stories from my own life. But on a few occasions, I've felt a strong "spiritual nudge" to write or talk about my experiences with depression and suicide. Introverted as I am, I'm always very hesitant to share my thoughts and feelings on such a sensitive subject—so whenever I do so, it is because I'm following those spiritual nudges.
A few months ago, my brother Sean and I were interviewed for a video on suicide prevention. I don't like being in front of the camera unless it's something fun or funny—and talking about depression and suicide are neither of those things, so this was a very hard thing for me to agree to.
The video shares the story of my suicide attempt, and tells how my brother's love and support helped bring me back. The response to this video has been remarkable and overwhelming. Both my Facebook fanpage and my personal page have been filled with positive, uplifting comments and heartfelt messages. I have received text messages and phone calls from people telling me that the video is helping them (or someone they know) feel hopeful about the future.
I honestly can't take credit for that video. I shared my story, yes. But the story is really about how my brother rescued me from the darkness of depression and helped me to move forward. And when I say 'brother,' I don't just mean my brother Sean.
This video is a testament to me of how our elder brother, the Savior, can turn the ashes of our lives into something truly beautiful.
I hope that it helps you move forward with faith in your own life.
I offer my heartfelt gratitude to Quinn Orr for inviting me to take part in this video, and for working so hard to provide resources to those who are still struggling. I also want to thank Al Fox Carraway for her friendship during the whole process. My self doubt might've gotten the better of me had it not been for her encouragement.
And, as always, I'm profoundly grateful for the love and support of my wife, whose friendship lights the way through my ongoing battles with depression.
Comments
comments