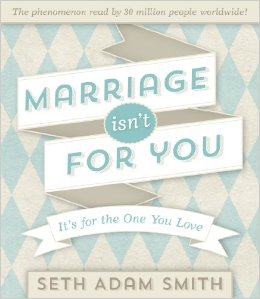 My first book is officially published! "Marriage Isn't For You" is now available as a beautiful gift book! It's the perfect gift for Mother's Day, a recent engagement, anniversaries, birthdays, weddings, or just about any special occasion for the one you love.
The book is based on my viral article that was read by more than 30 million people and translated into almost twenty languages. This gift book version of the article has been published through Shadow Mountain Publishers and is filled with gorgeous pictures and has a stunning design. Before publication, I was given the chance to add a few additional thoughts and a special preview my book that will be published in September 2014.
You must understand, writing and publishing books has been a dream of mine since I was eight. I nearly cried when the advance copy of this book came in the mail (yeah, that's right! I nearly cried. I'm not ashamed!). I am doing everything I can to make sure that this book becomes a bestseller on Amazon. Doing so would help give the message more exposure, and it would help me continue to blog about inspirational and uplifting topics.
If my writing has touched you, inspired you, or helped you in any way, please order a copy of this book on Amazon today!
Please share this article/news with everyone you know. Post it on your Facebook pages, blogs, and email it out to others. Thank you so much for all of your love and support.
Comments
comments